Home
Rep. Tom Murt's Legislative Report with Sheila Stasko, Statewide Coordinator and Lisa Tesler, Policy Coordinator of the PA Waiting List Campaign.
In this video they discussed the history and topics related to the massive waiting list across the state of Pennsylvania for individuals with Intellectual Disabilities.
______________________________________________
OLMSTEAD HEARING
On March 31st, a Hearing was held in the House of Representatives concerning the Olmstead Decision and people living in large institutions.  Vision for Equality and the PA Waiting List Campaign gave an exceptionally high quality Hearing that everyone should have information on and access to.  The information we are sharing will help you explain to your Legislators just what the Olmstead Decision is and the impact it has on people.  Let's end institutional bias.
To watch the Olmstead Hearing click the link below Video House Human Services Committee hearing - 3/31/2014: http://www.pahousegop.com/56.aspx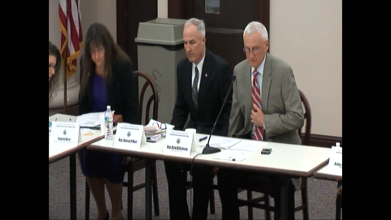 _______________________________________________________________
We Thank Governor Corbett  for the proposed 22.4 M funding for the 2014-2015 Budget to Address the Waiting List for  Community ID
Here's what the Governor said in his PA State Budget Address: 
"We have the chance to continue to improve the lives of our friends and neighbors with disabilities, individuals whose strength and courage have become a constant source of inspiration to me.  For far too long, these people had to wait for services they and their families so desperately needed. But last year, our increased investments helped reduce that waiting list.
Just last week, I visited the Kroc Center where those with disabilities are able to work and lead fulfilling lives in the community. I saw the commitment of a community to make people's lives better. I know how important that commitment is, and so do you.
We need to create a Pennsylvania where people with disabilities, and their families, will never be forced to wait for services again.
This year, we will work to further reduce those waiting lists with an additional $41.5 million to provide home and community-based options for people with disabilities and autism spectrum disorders."
Here's what it means to people who are waiting:
It will strengthen our families.  90% of families keep their sons and daughters at home.  As we and our children grow older, the task becomes harder.  This funding will allow some to age in place and keep our sons and daughters at home longer.  It will allow our young high school graduates to have a rich and full life, one of promise and opportunity. For some of our families, it will allow them to work, for older caregivers it will allow them the privilege of retiring when they are ready.
Send a Thank you to Governor Corbett for helping people get of the ID waiting list for community services at governor@state.pa.us.
_____________________________________________________________________
Office of Developmental Programs (ODP) updated list of current AWC FMS organizations that support Consolidated and Person /Family Directed Support (P/FDS) waiver participants and surrogates who have chosen to self-direct some or all of their Participant Directed Services (PDS) using the AWC FMS model. Currently, this information is not available in the Services and Supports Directory that is located in the Home and Community Services Information System (HCSIS).Please click here to read the full Information Memo. 
_________________________________________________________________________
 The Aging of the Baby Boom and the Growing Care Gap:   A Look at Future Declines in the Availability of Family Caregivers
_________________________________________________________________________
Pennsylvania's ID Waiting List includes those receiving none or only some of the services and supports outlined in their Individual Support Plan (ISP). Based on need, people fall into emergency, critical, or planning status on the Waiting List.
The PA Waiting list Campaign is working everyday to end that wait. Use our website to find information about the waiting list, learn how to make a difference and find out what is going on and what is done to End the Wait.